Premium Shield film is designed to practically disappear once applied.  Protect your paint from road debris, chips, and scratches. 
Available in a wide range of size to fit your vehicle. With the highest quality of raw materials and a warranty to match, Premium Shield delivers on all counts. 
Layers of Protection Designed by Installers 
Top Coat - won't fade or crack, eliminates acid rain and bird dropping marks, with a Lifetime Warranty. 
Aliphatic Urethane - 6.5mil aliphatic urethane, non-yellowing, extremely flexible when conforming to sharp curves on difficult installations.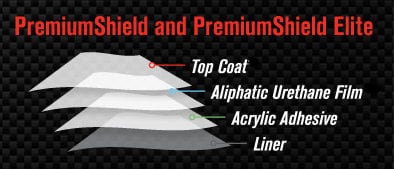 Acrylic Adhesive 
- the adhesive greatly reduces effects of silvering and stretch marks on dark color surfaces.
Hours
Monday

9:00 AM - 6:00 PM

Tuesday

9:00 AM - 6:00 PM

Wednesday

9:00 AM - 6:00 PM

Thursday

9:00 AM - 6:00 PM

Friday

9:00 AM - 6:00 PM

Saturday

9:00 AM - 6:00 PM

Sunday

Closed