Kupper Subaru is proud to offer a $500 Subaru Military Discount on the purchase or lease of a new Subaru to qualifying military personnel.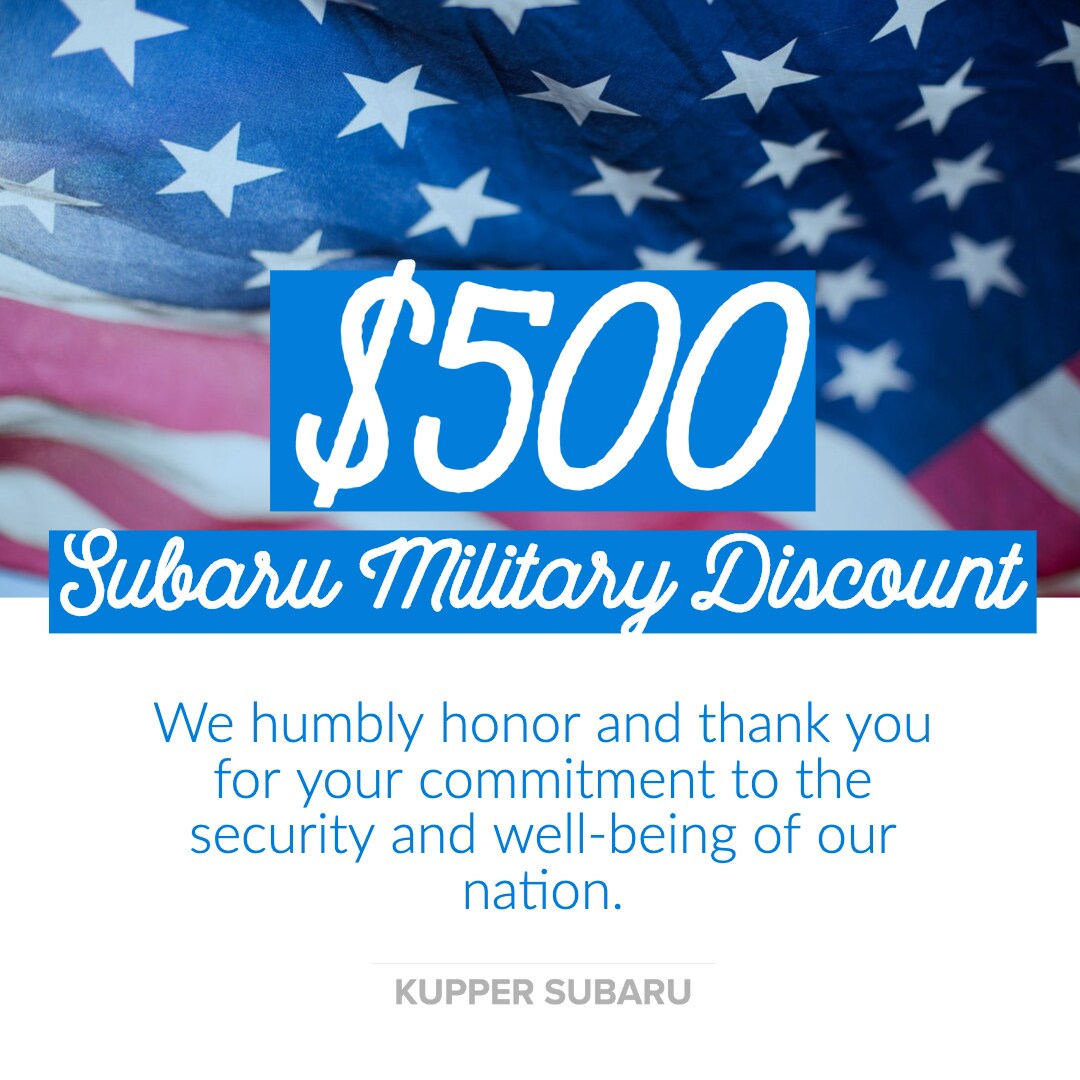 Kupper Subaru and Subaru of America are pleased to offer an exciting program designated to honor eligible active duty and reserve members of the U.S. Army, Navy, Air Force, Marine Corps, Coast Guard and National Guard as well as veterans and retirees within twelve months of the date of separation. Also included are the active duty member's spouse or domestic partner whom must reside at the same address with the active duty member (address verification is required). 
This program is non-transferable and does not extend to the eligible participants family members such as parents, siblings, children, etc.
Those participating in the Military VIP Program are required to present one of these documents to support eligibility in the program: Letter on Department of Defense letterhead from the commanding officer stating the participant's current duty status OR Most recent Leave Earnings Statement (LES). Standard identification requirements for the purchase of a vehicle are also required.
Excluded Vehicles
Vehicles not included in this offer are Subaru BRZ, WRX, and STI.
Vehicles purchased/leased under the program must be registered, titled or leased in the name of the eligible participant (or spouse/domestic partner) for personal non-commercial use or transportation. Although this specific program does not extend to retired military personnel and is non-transferable to other family members such as parents, siblings, children, etc., Koby Subaru DOES extend Special Discounts To ALL RETIRED VETERANS!! The special VIP pricing under the Military Incentive Program cannot be combined with any other Subaru of America promotional offer, including, but not limited to auto show coupons, internet coupons or direct mail offers (except Guaranteed Trade Program, $500 Subaru Added Security Maintenance Plan Coupon or Subaru Reward Dollars).
 Participants are limited to the purchase/lease of two new vehicles during the program period. New Subaru models are included in the Subaru Military Incentive Program, subject to availability and dealer discretion. From time to time specific models may be excluded from the program as determined by Subaru of America.